Zola Jesus W/ Talk Normal & Technicolor Hearts
Friday, Feb 3rd
The Parish
9pm
$10 tickets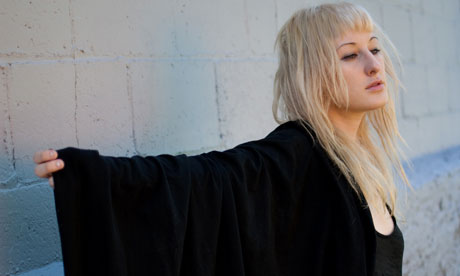 Zola Jesus is the stage name for the beautiful voice wielding Nika Roza Danilova. Mixing elements of classical with electronic, and experimental, her music creates landscapes of pure black, and eery sweet. She has an opera background, and her vocals are positively haunting. She really doesn't sound like anything out there, and when mixed with the cinematic synths, the experience is truly original. In an interview with The L.A. Record, Nika commented on her own philosophy, since she has studied it, saying "I believe in not avoiding things you're afraid of. Especially really dark things." We agree. Watch Ms. Zola Jesus do her uber dark, dark, dark things in the way of musical stylings, and you too won't want to avoid them. "Come to the dark side…"  sorry we couldn't resist.
Search for parish albums on Amazon
By Sania Parekh Posted in Austin parish, Zola Jesus
Related Zola Jesus Content:
Features
mxdwn Best of SXSW 2012
High Fidelity
M83 – Hurry Up, We're Dreaming
Zola Jesus – Versions
News
Zola Jesus Collaborates With JG Thirlwell and The Mavos Quartet for Special Performance in New York City
LISTEN: Zola Jesus Releases Stream for New Track "Avalanche (Slow)"
Zola Jesus Announces Fall 2014 Tour Dates
[UPDATE x2] Zola Jesus Announces Spring 2015 Tour Dates
Zola Jesus Announces New Album, Releases New Track
Watch: M83 and Zola Jesus Perform Together in L.A.
Zola Jesus Announces New Collaborative Album Titled Versions with JG Thirlwell and the Mivo Quartet, Set for August 2013 Release
LISTEN: Zola Jesus Releases New Song "Dangerous Days"
Tomorrow Never Knows Festival Announces 2015 Lineup Featuring Cloud Nothings, The Both And Zola Jesus
Upcoming M83 Album to Feature Collaboration with Zola Jesus
LISTEN: Zola Jesus Streams Live Band Version of "Trust Me"
Zola Jesus Announces New Album Taiga for October 2014 Release
Stereogum Sacred Bones Chaos in Tejas SXSW 2011 Party
UR1 Festival 2012 Postponed Due to Windy Weather Forecast
WATCH: Zola Jesus Releases Video for New Song "Fall Back"
Zola Jesus Announces Tour Dates for Spring
Listen: New Zola Jesus Release New Track "Seekir" From Forthcoming Album
Rhapsody Rocks Austin SXSW 2012 Day Party Announced Featuring Washed Out and Zola Jesus
Zola Jesus Set to Release New EP, Offers Free Download
M83 Reveals Stream of Zola Jesus Collab Track "Intro" from Hurry Up, We're Dreaming
Fader Fort by Converse Official SXSW 2012 Day Parties Announced Featuring Santigold, Zola Jesus, Black Hippy And More
Run The Jewels Run A Campaign On Kickstarter For Cat-Themed Remix Featuring Zola Jesus, Just Blaze And Skywlkr
Fucked Up Announce New 12″ Single
Listen: Stream New Orbital Song Featuring Zola Jesus for "New France"
WATCH: Zola Jesus Releases New Live Performance Video of Song "Avalanche" with JG Thirwell and Mivos String Quartet at The Guggenheim
LISTEN: Zola Jesus Releases New Song "Go (Blank Sea)"
Watch: El-P and Zola Jesus Perform "Works Every Time" Together on Conan O'Brien
Zola Jesus Announces Versions Fall 2013 Tour with JG Thirlwell and Mivos String Quartet
WATCH: Zola Jesus Releases New Video For "Dangerous Days"
Zola Jesus Releases New Video For "Hunger"
Zola Jesus Announces Tour Dates in Support of Conatus
Zola Jesus Announces Spring 2012 Tour Dates
Reviews
Zola Jesus Live at Elysium SXSW
CMJ Day Three Part One – Info Sessions, Zola Jesus,
Zola Jesus – Taiga
Photos: Smashbox Presents PLAY MOCA with Zola Jesus and Active Child
A Certain Je Ne Sais Quoi – Beck, Mike Patton, Joseph Gordon-Levitt, Sean Lennon, Charlotte Kemp-Muhl, Ed Droste, Zola Jesus and More Pay Tribute to Serge Gainsbourg at the Hollywood Bowl
Comments